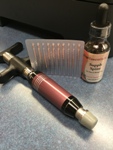 Most people think of alternative care only after exhausting what conventional medicine has to offer. For a simple complaint like a roundworm infestation or a paw laceration conventional treatment is wonderful. But for more complex or longer term issues, initiating alternative care early has some distinct advantages.
The first is that any therapy works better when started early. The diabetic or cancer patient who begins alternative care before their disease is quite advanced stands a better chance of living a longer and healthier life.
The second is that starting alternative medicine early can reduce the need for pharmaceuticals, both in number and in duration. The fewer drugs a patient has to metabolize, the less likely they are to experience side effects that require more drugs to alleviate. And if drug dosages can be kept to a minimum, the more likely they are to maintain their efficacy over time.
The third is that alternative medicine, unlike the majority of conventional interventions, can augment the body's own healing capacity so that patients can do more of their own work toward recovery – always the best option! Alternative therapy is tailored to the patient as an individual, not just to the disease, which makes for the ultimate in personalized healing.
Of course alternative medicine can help in the later stages of illness as well, especially for weak and debilitated patients, but the earlier you can get your pet going with gentle and supportive medical options all the better. Please call us for any questions about your furry friend!
-Dr. Chattigre'