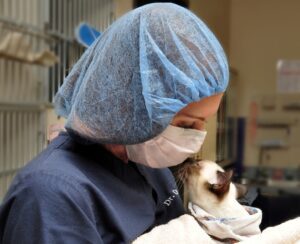 Thank you for taking the time to visit our web site. Cascade Summit Animal Hospital (CSAH) is a place for people who really love their pets and want the best medical care for their animal companions. I would like to take a moment to share my vision for CSAH and tell you a little bit about myself.
I knew at four years old that I would become a veterinarian. I don't believe I "chose" my profession as much as I believe it is a calling and not a job. Most veterinarians that I know felt the calling at a young age. I have since chosen to open my own practice, so that I could practice medicine the way that I believe is best. Owning your own practice can be a challenge and a conflict to a veterinarian because, after all, I didn't become a veterinarian for the financial gain. Nonetheless, it is a business, and a delicate balance has to be maintained in order to remain viable so we may continue to provide services to the community.
When you visit us at CSAH, you will very quickly notice that things work differently here than at other clinics you have visited. For example, I like long appointment times when appropriate for the circumstances. I schedule one hour for sick patients or when a lot of time is needed to answer many questions, such as new puppy or new kitten exams.
CSAH is a privately owned and operated animal clinic. We have no quotas our veterinarians must meet, and we have no protocols designed solely to increase operating efficiency and profitability. When you choose to entrust the care of your loved pet to CSAH, it is important to me to spend time with you and get to know both you and your pet. This is, after all, what I find most enjoyable about being a vet.
You may be aware of a new trend in veterinary medicine of corporate owned clinics. Several major corporations own hundreds or thousands of clinics across the country, set medical protocols veterinarians are required to follow, quotas which must be met, and often follow a ten minute per client appointment schedule. Many clinics have a policy that all pets are given the same set of vaccines regardless of whether they need them or not. One corporation has published a defense of this protocol, saying that they give seven vaccines to indoor only cats, because they do not trust the client to really keep the cat indoors 100% of the time. Still other clinics focus on quick appointments, just the basic vaccines, and offer low cost basic care. At CSAH we feel differently about the quality of care our animals deserve, and we strive to offer a different level of service to likeminded animal lovers.
By contrast to the "big box" veterinary services, it is my desire to talk with you about your pets' lifestyle and whether or not they need vaccines. If so, let's discuss which ones are really necessary. I want to earn your trust so that you know when I make a recommendation, I only do so because I believe that it is truly the best thing and it is what I would do for my own pet.
At CSAH, it is my goal to provide the highest quality of veterinary medicine and service to those who are truly committed to the very best care for their animal companions. I believe that each different type of animal clinic fills an important niche and if it weren't for the wide variety of levels of service and clinics, some animals would never see a veterinarian at all. Excellence in veterinary care is the niche that I choose to fill and the mission of everyone at Cascade Summit Animal Hospital.