Going camping with your dog (or cat) this summer? Be sure to read our checklist before you hit the road!
Parasite Prevention
Before you hit the road, make sure that your dog is current on their monthly flea, heartworm and tick prevention!
Dog License ID Tags/Rabies Tag/Insurance tag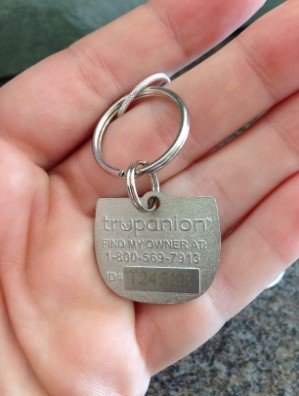 It is so important to make sure your dog has an ID tag with your contact information (maybe even a secondary contact as well), rabies tag for proof of vaccination and insurance tag if your pup has pet insurance (Trupanion provides a tag). If your dog gets lost or hurt and is taken to a local veterinary hospital, they may be quicker to treat your pet if they know he/she is insured and up to date on vaccines.
Leash and Collar
Bring a strong leash and collar in case your dog suddenly decides to lunge for something ("SQUIRREL!"). It may be a good idea to bring an extra leash and collar for each pup in case one gets damaged, wet (afternoon dip in the river, anyone?") or lost.
Long Lead/ Tether
A long leash (10-20FT) is great for when you are lounging at your campsite enjoying the day. You can tie the leash to a stake, tree, picnic table leg or other strong object which will give your pup more freedom to explore surroundings and not run away. Another option to keep your dog contained at a campsite is to bring along a portable exercise pen. This would be less ideal if your dog can leap out.  Both options are not meant to be used while you are away from the campsite.
Dog Crate/Harness
A carrier, harness, or crate could come in handy while driving with your dog or putting them in your tent (Raining in July? In Oregon?). Having your dog loose in the car while driving is not safe! Some dogs can rip a tent by chewing or pawing at it. We do not recommend having your dog in the open bed of a truck; it is extremely dangerous for your dog and can lead to serious injury.
Hand wipes/Baby wipes/Paper towels/Air freshener
Motion sickness and anxiety can occur with your pup while riding in the car. This could cause them to become nauseous or have an accident. Be prepared with paper towels, a garbage bag, hand wipes for your hands and carpet cleaner just in case!
Food/Water and Dishes
Always bring extra food and water for your dog. Although you may be close to a water source, such as a stream or a lake, be aware that some water may be contaminated with bacteria, chemicals or parasites which could cause illness. Bringing a few days of extra dog food will also prepare you if you unexpectedly camp longer than you had planned, or if you left food out by mistake and had some critter visitors.  If you are planning on hiking or taking long walks, bring along collapsible dishes that are small and lightweight.
Poop Bags
Please clean up after your dog!
Bed and Tarp
Bring your dog's blanket or bed to provide your dog with a warm, safe, quiet spot to sleep. You can use it in the car when driving, and for him to sleep on at night in your tent. You may want to bring a plastic sheet/tarp to put under your dog's bed to protect it from cold and moisture that can come up from the ground.
Towel
Or two. Or three. When your dog gets wet and dirty – yes, not if, when – you will need something to help clean and wipe him off.
Toys/ Treats
Like kids, dogs can get bored and would love to have a fun toy or a tasty treat. Bringing your dog's favorite toys to play with can also calm anxiety and add something familiar to camping. Enza-chews or a good old fashion tennis ball are perfect examples.  And don't forget the treats in case a campsite neighbor asks to see his latest trick!
Jacket/Booties/Coat 
Little Chihuahuas and Italian Greyhounds come to mind when we think about jackets for dogs.  The truth is, a dog of any size can benefit from a coat or a jacket to help protect them from the elements of camping.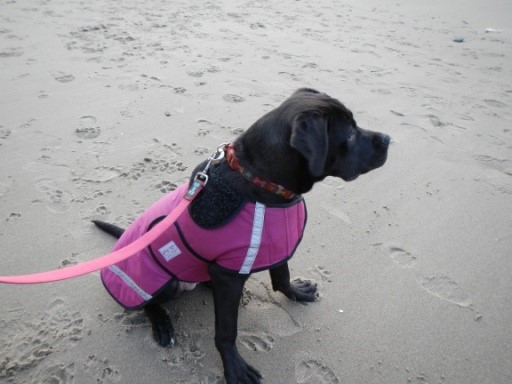 And lastly… a First Aid Kit!
Gauze sponges
Triple antibiotic ointment (Neosporin or generic)
Rubbing alcohol
Ace self-adhering athletic bandage — three-inch width
White petroleum jelly (Vaseline or similar)
Eye wash
Sterile, non-adherent pads
Generic Benadryl capsules — 25mg, for allergies
Sterile stretch gauze bandage — three inches by four yards
Hypoallergenic cloth tape 1 inch by 10 yards
Hydrogen peroxide
Bandage scissors
Vet Wrap bandage
Tweezers
Muzzle
Hemostat
Thermometer
Zip lock bags
Paperwork, including the dog's health record, medications, local and national poison control numbers, regular veterinary clinic hours and telephone numbers, and emergency clinic hours and telephone number.