We are thrilled to announce our newest associate!! Dr. Katharine (Kali) A. Wilson will be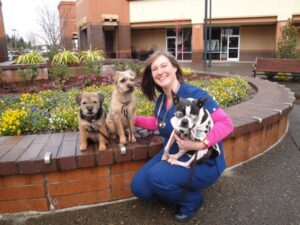 joining the Cascade Summit Animal Hospital family March 28th! We could not be more excited to have such an experienced, kind veterinarian. Dr. Wilson earned her veterinary degree from Oregon State University. Starting in 2001 she became a Dove Lewis Board Member and in 2015 became the Dove Lewis Board Chair. She has worked in various small animal clinics in the Portland area, and is viewed as a valued team member. In her previous clinics, she worked thoroughly in both general practice and emergency medicine.
She currently lives in West Linn, OR and her personal interests include mountain biking,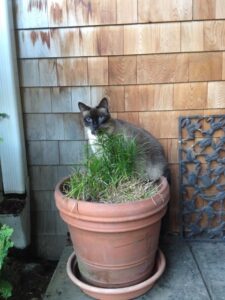 running, gardening and cross-stitching. At home she has three dogs and one cat. Molly is her 5 year old Siamese that she adopted at 2 years of age after being abandoned at a vet clinic. PJ and Frannie are both Border Terriers, 6 and 9 years old. Cricket is a 13 ½ year old Boston Terrier that she adopted from someone who could not keep her as a puppy. Frannie and Pj have their Novice, Intermediate and Advanced Trick Dog. She also does Flyball with her kiddos. Visit the club website for Flyball and also learn about Trick dog here.
Request her for your next appointment so you and your pet can meet our newest addition!