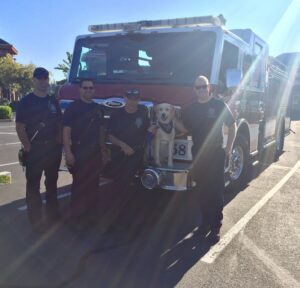 There are many types of emergencies; fires, earthquakes, snow storms, etc. Whatever the emergency may be, it is essential to educate your family and have a plan in place. This is especially important in ensuring that you are prepared to keep your pets safe.
With the wildfires in the Pacific Northwest, smoke creates a danger in air quality. Like us, it is important to limit a pet's time outside. If your pet requires exercise, try to find activities inside so your pet can get the proper exercise. Stimulating the mind can be just as great to work a pet. Hiding treats in pet puzzles, using a laser pointer or just playing with your pet's favorite toy.
Here are some tips in preparing for an emergency or disaster…
Coordinate with a family member, friend or neighbor. If your home is dangerous to enter, emergency personnel are properly trained to evacuate pets in a home. However, if you cannot get home on time to feed or medicate, have someone you can contact to step in and help.

Keep leashes and cat carriers in a visible place or somewhere easy to find.

Place Emergency Sticker on a front facing, visible door or window. Visit Amazon to find a sticker to alert those outside what type of pet and how many are inside needing rescue. (note: If pet(s) have been evacuated- write "EVACUATED" on sticker)
Have an emergency travel kit. In case of evacuation, have supplies ready (food, water, medication, first aid).

If your pet does not wear a collar, make sure you have one with an ID tag to put on.

Have a list of local boarding facilities and pet friendly hotels for you and your pets to stay.
Remember if it is unsafe for you, it is unsafe for you pet. Get yourself to safety and contact emergency personnel who have been trained in pet recovery.
Visit ASPCA  or Red Cross for more information on ways you and your family can prepare for an emergency.