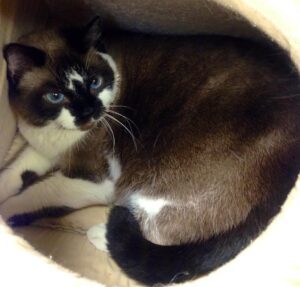 We are thrilled to announce our clinic has officially been awarded the Gold Status certification of a Feline Friendly Practice by the American Association of the Feline Practitioners. What does this mean for our clients and patients? Trips to the vet can be stressful for cat owners and our feline friends, and we were determined to change this.
Our staff and doctors have worked hard in education, practice and implementation of standards to eliminating this anxiety. This starts before the visit itself; educating clients on methods to reduce stress and make the dreaded act of getting your cat into the carrier easier. A lot of the stress free management begins at home. You as a pet owner can do many things to help reduce the stress substantially, creating a positive experience from the start. This can be done through the use of Feliway wipes and sprays, which releases a calming pheromone associated with the carrier. Additionally, feeding cats in their carrier a couple days or even weeks prior to the appointment creates another positive association with the carrier.
Changing our clinic's lobby was one of the biggest alterations we made. Because we also have dogs coming in and waiting, we had to find a way to make cats feel safe in their carriers since owners had worked so hard to get their cat in peacefully. We have now separated our lobby to having a "Cat Corner" and "Dog Waiting Area". The "Cat Corner" has a Feliway diffuser on at all times, a table to set cat carriers on so cats do not feel vulnerable down low, and a towel to cover carriers to create an extra feeling of safety. We encourage clients to use the Feliway spray bottle on the towel.
Veterinary staff has been trained to understand the behavior of our feline friends to better help them have a sense of security when being handled for exams, blood draws, nail trims and many other treatments conducted on a daily basis in our hospital. Handling our feline friends is very important during all treatment, both to keep the pet safe and comfortable. We use a limited restraint method so the cat does not feel pinned or unsafe. Minimal "scruffing" is always practiced, as most cats do not need this extra restraint. For those cats who are more fearful, we use towels to gently wrap and secure the cat; the towel also serves as a hiding place from other sounds that could be going on in our treatment area.
We love our feline patients and want them to continue coming back. Our new certification gives us the ability to not only see our patients and clients we care about more frequently, but in a calmer and happier state.
Our lobby, exam rooms, hospitalization area, and operating room have been assessed to include appropriate feline equipment, tools and procedure.
Please visit the American Association of the Feline Practitioners website for more information on a Feline Friendly Practice.