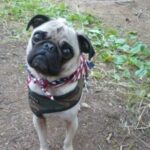 Portland animal shelters and emergency vet clinics are full of runaway dogs and cats that have been shaken up by the loud celebration explosions of Independence Day every year.   Dogs are known to kick into flight mode and jump through windows or knock down screen doors, dig holes to go under or even spring to jump over backyard fences in attempt to escape the sound of danger.  We have put together a couple of tips you can follow to help keep your pets safe and a little less stressed.  Fourth of July to them usually translates to "the world is ending!!"
 Make sure all pets, even indoor-only cats, are wearing a collar with an ID tag that includes your name and number. A microchip is always a GREAT idea. Terrified animals can end up miles from home or deep under a neighbor's porch.  Identification is the first step to getting your pet home and safe if they happen to escape.
Walk dogs in the afternoon – well before dusk – to prevent undue stress from noisy fireworks in the neighborhood.
It's best to keep all pets inside during firework displays. It is safest to put your dog or cat into a cool room with a secure door and no open (or even cracked) windows. Closing all windows and curtains in your house can have a significant impact on filtering noise. You can play soothing music or turn on the TV to help muffle loud noises as well. Never leave pets outside and unattended.  Do not use a screen door for confinement- MANY dogs have busted right through them! Lastly, it's best to not take dogs to watch a large firework display in the park as this can increase the chances of them becoming lost in an unfamiliar area.
Check with your veterinarian about options for sedation.  There are medications available that can help reduce your pet's anxiety for the night. It is better to plan ahead and do this sooner rather than later! Your pet may need an exam by a veterinarian first, and you will want to allow time for prescription filling and making sure the medication is in stock (and not sold out!).
What happens if my pet does become lost during the holiday?
Immediately check with your local animal control agency.
Put up neighborhood flyers with a photo and detailed description of the missing pet.
The Craigslist Website offers free lost and found pet posts. Social media has become a great networking tool to connect with others in the community as well.
If your dog has a microchip, contact the company as soon as possible.  Some of the microchip companies will send a fax to all local veterinarian offices and shelters when a pet is reported missing.
Check your yard and neighborhood very carefully.  Lost cats have been found days later hiding under a bush in front of their owners' homes. For dogs, expand the search area further than expected.
Do you have any stories or tips you would like to share? Comment below! CSAH wishes you a safe and fun holiday weekend!