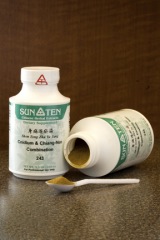 Chinese and Western herbs come in liquids, tablets, capsules, and powders. In liquid form, some are preserved with a small amount of alcohol and some are glycerin based. Since herbs don't generally taste great, it's important to be aware of dosing options to improve ease of administration and palatability.
As with most medicines, dogs are easier to give herbs to than cats. Most dogs will easily scarf up herbal powders mixed into moist food. Another option is to make two moist food meatballs, one with the herb mixed in and one plain; the medicine ball is given first followed by quickly offering the plain one to minimize taste bud exposure and finish with good flavor. For more finicky dogs, one of my clients came up with the "herbal taquito" – mix the herb dose with enough hot water to dissolve it, mix that with enough moist food to make a paste, smear that on a slice of turkey lunch meat, and roll up like a taquito!
For very finicky dogs and most cats, liquid herbs are a better option. (Some cats will actually take powders mixed in food.) Liquids mixed in food blend into the food flavor better than powders. Liquids can also be dosed directly by mouth, followed by a tasty treat. The key to direct dosing is to squirt the liquid in semi-rapidly…fast enough to get the job done but not so fast that it strikes the throat forcefully. For animals with sensitive tummies, give some food prior to dosing so it's not on an empty stomach. You can also mix the herbs with extra water, slurries, onion-free baby food, or onion-free low salt broth.
All liquid herbals should be shaken prior to drawing up the dose. Glycerine-based liquids need refrigeration after opening, but alcohol-based ones can be stored at room temperature. Liquids are more expensive per dose, but offer a wonderful option for finicky pets. Liquids also tend to be more bioavailable for pets who need high digestibility.
A recheck visit roughly two weeks after starting herbs is needed to ensure that the herbal formula selected is working well for your pet. Over time, the formula may need to be changed as your pet's condition shifts. This way your pet receives truly individualized care. Please call us if you have any questions about giving herbs to your furry friend!